To be able to play the same account on multiple devices, the first thing to do is to save the data of your current account.
This is done by registering your account as explained here:
https://startrektimelines.zendesk.com/hc/en-us/articles/215687778-How-do-I-register-my-STT-account-
(If you started your account on Facebook, it is automatically registered and nothing else needs to be done.)
Once this is done, install the game on the device of your choice (to play via your browser on Facebook Games, keep scrolling!).
Go through the Prologue and reach level 4.
At that point you will have access to the Menu, and the Settings.
From there choose: Create an account.
In the Account Management window locate Already have an Account? 
Tap on Login to Account.
Login with your email address and password or select Login to Facebook if your account is registered with your Facebook profile.
A pop-up will appear asking to confirm that you want to overwrite the current account with the saved one.
Tap Continue to confirm.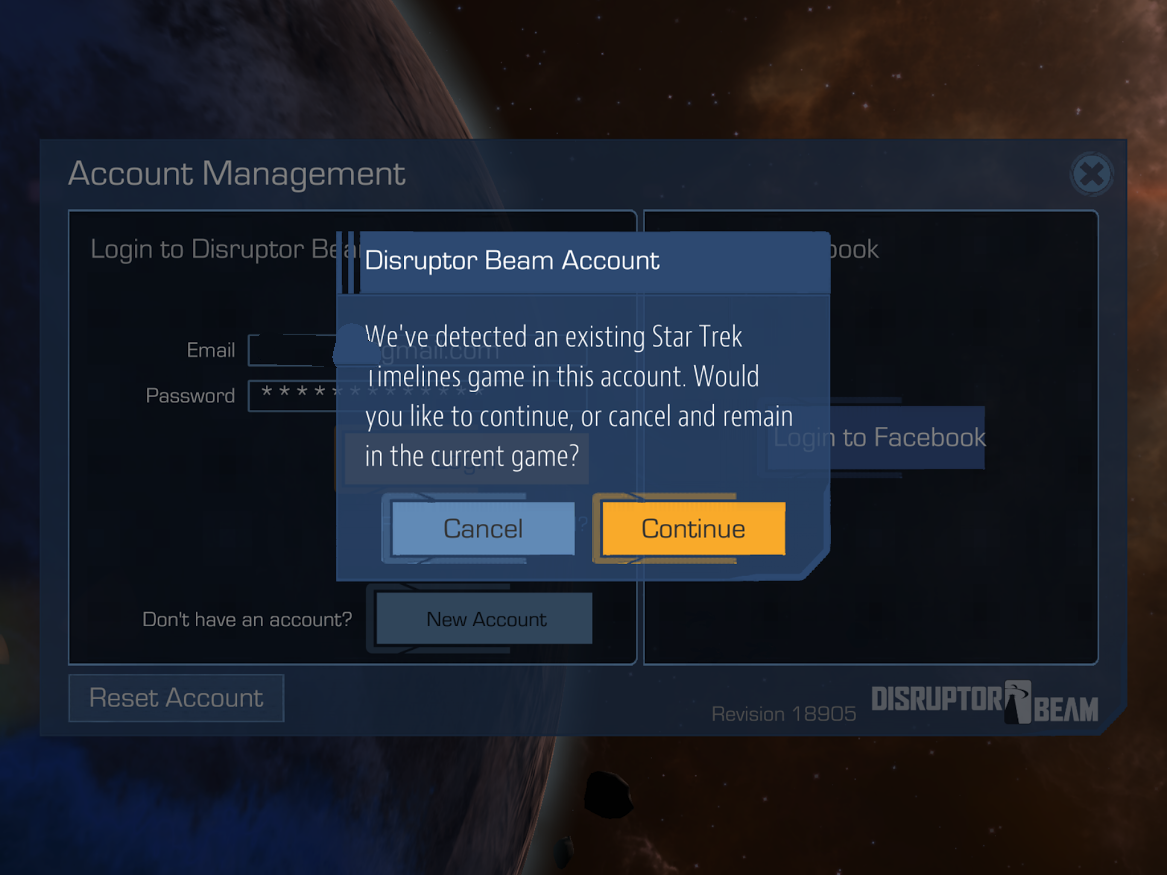 Restart the app if you are not prompted to do so.
To link your mobile account to Facebook:
If your Star Trek Timelines mobile account was created by logging in with Facebook, then your account is already synced to the Facebook version of the game, and you can proceed to "Play Game".
If your mobile account has never been associated with Facebook, you will need to ensure that your account is linked to the same email address as your Facebook account. If you need to change your DB account's email address, please login here and enter the new address that you would like to use:
https://games.disruptorbeam.com/email
If your email address is already in use (such as if you have already accidentally created a new STT account on Facebook), please contact support to get it swapped to your main account.
Next, make sure that the email address associated with your Facebook account has been verified by Facebook, particularly if this is a new Facebook account.
Once your account email matches your Facebook email, launch Star Trek Timelines on Facebook. When you hit "Play Game", you should be prompted to give the app permissions--make sure you accept permission to share your email address with the app. Once that's done, your account should automatically sync to Facebook and you should be cleared for launch!